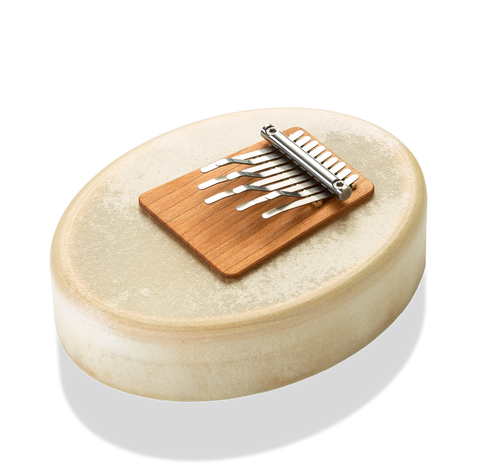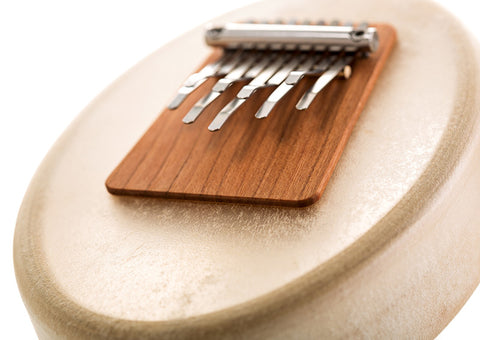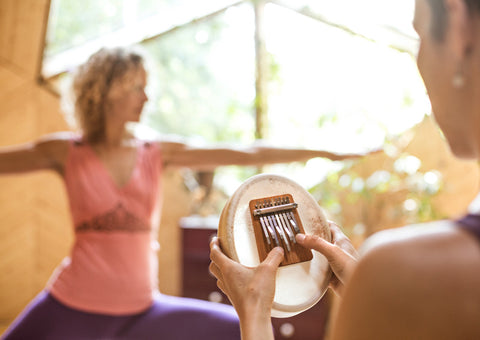 Hokema - Kalimbas
HOKEMA - Sansula Deluxe B-Ware
$197.00
$231.00
you save $34.00
Die Sansula - eine patentierte Erfindung aus dem Hause HOKEMA - ist eine neuartige Weiterentwicklung der Kalimba (auch Sansa oder Mbira genannt), die ihren Ursprung im Süden Afrikas hat. Kalimbas sind Klangzungeninstrumente, die mit den Daumen oder auch Fingern gezupft werden. In Afrika findet man sie in unzähligen Formen und Ausführungen, in denen auf verschiedene Art und Weise die Schwingung der Zunge verstärkt wird, (z.B. auf einem Resonanzkasten, einem Hohlkörper wie einem Kalebassen-Kürbis oder einfach einem Stück Massivholz). Bei der Sansula wird die Schwingung der Zunge zunächst in einem Holzblock `gespeichert`, der sie dann auf eine Klangmembran überträgt. Auf diese Weise ist der Klang dann sehr viel länger hörbar als bei anderen Methoden der Klangverstärkung. Unterstützt durch die Stimmung – Oktaven liegen beieinander – entsteht ein wunderbarer, weicher, obertonreicher Klang, der dem Instrument mit Leichtigkeit zu entlocken ist.
Die Sansula Deluxe ist eine Weiterentwicklung unseres Sansula Basismodells. Auf Wunsch vieler Kunden haben wir sie mit einer stabilen Naturmembran aus Ziegenfell und einer Spannvorrichtung ausgestattet. Diese Veränderungen machen den Umgang mit dem Instrument noch vielseitiger. Als Produkt mit Komponenten aus Naturmaterialien stellt jedes von uns ausgelieferte Deluxe- Modell ein Unikat dar, das sich durch einen noch volleren und wärmeren Klang, sowie durch seine Robustheit auszeichnet. Während das Sansula Basismodell für den Gebrauch durch kleinere Kinder zu empfindlich ist, kann die Sansula Deluxe nun auch in Kindergärten und Musikschulen eingesetzt werden, ohne dass eine allzu leichte Beschädigung befürchtet werden muss. Natürlich erfordert auch die Sansula Deluxe eine behutsame Behandlung, wie sie für Musikinstrumente üblich und angemessen ist.
Werksstimmung: A-Moll ( A - C - C - A - A - F - E - E - H )

Membran-Material: Ziegenhaut
Abmessungen:  198 x 155 x 67 mm
Gewicht: 425 g
The B-Ware Kalimbas are tonally flawless and have been classified as B-Ware for optical reasons only. This means that they may have small scratches, color defects or other slight flaws, but these do not affect the sound quality. Each kalimba has been carefully inspected and tested to ensure that it meets our high standards. By purchasing our B-Ware Kalimbas, you will receive a high quality instrument at a lower price. Thank you for visiting our website and enjoy browsing!